U.S. Pool Supply® 12" Swimming Pool Leaf Skimmer Net - Fine Mesh Netting, Clean Pool, Spa, Hot Tub, Pond - Cleanout Leaves Fast, Debris Pickup Removal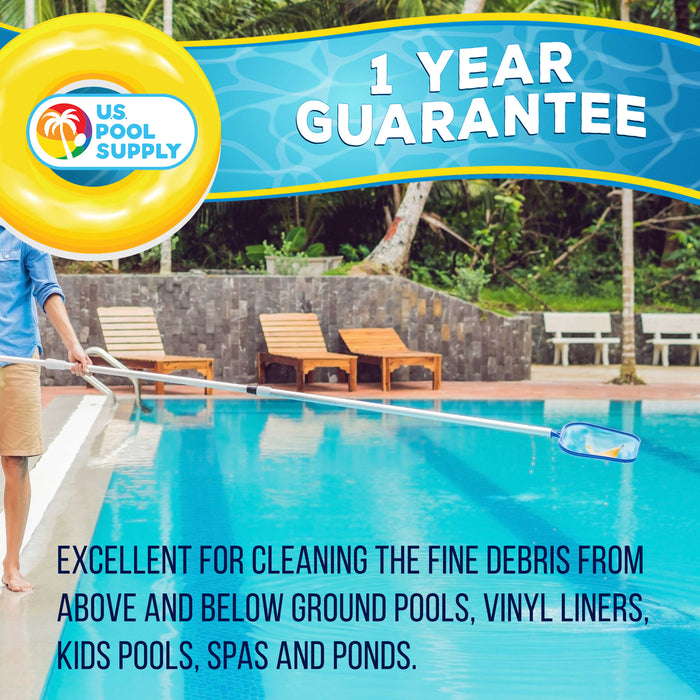 U.S. Pool Supply® 12" Swimming Pool Leaf Skimmer Net - Fine Mesh Netting, Clean Pool, Spa, Hot Tub, Pond - Cleanout Leaves Fast, Debris Pickup Removal
Your everyday low price:
USA OWNED & OPERATED
Since 1974
Fast Pool Cleaning: Ideal daily use pool skimmer for quick, easy, and efficient cleanup of leaves and debris from pools and spas. Net fits standard size (1-1/4") telescopic pool vacuum poles. Pole not included.
Sturdy Lightweight Net: Net outer frame dimensions 12" wide x 12" long with 10.5" wide x 11.5" long durable fine mesh netting. A long-lasting, sturdy skimmer net with a little bit of flex for easier maneuvering.
Skim Fine Debris: The net's fine mesh netting allows it to collect fine debris and effectively holds the leaves within the net while maneuvering the skimmer throughout the water.
Safe and Easy to Use: The durable plastic frame is safe for use in all types of pools, spas, hot tubs, and it won't mar pool liners.
Buy with confidence, as our pool leaf skimmer is built to last, and if you're not satisfied with it at any time within one year of purchase, we'll provide a refund or replacement.
?

WARNING:

This product can expose you to chemicals which are known to the State of California to cause cancer, birth defects or other reproductive harm. For more information, go to www.P65Warnings.ca.gov.  
Weight: 0.3 lb