U.S. Pool Supply® Professional Heavy Duty 20" Swimming Pool Leaf Rake with Deep 16" Net Bag - Fine Mesh Netting, Easy Scoop Edge - Fits Standard Swimming Pool Pole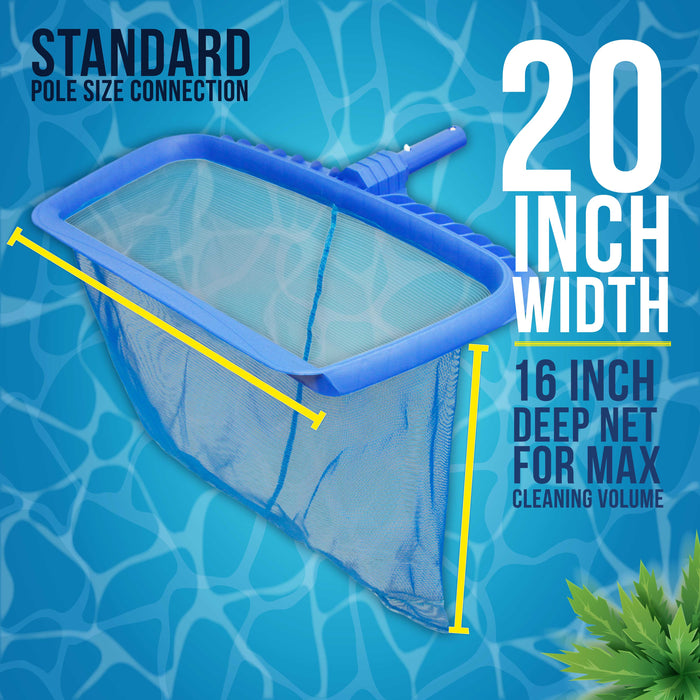 U.S. Pool Supply® Professional Heavy Duty 20" Swimming Pool Leaf Rake with Deep 16" Net Bag - Fine Mesh Netting, Easy Scoop Edge - Fits Standard Swimming Pool Pole
Your everyday low price:
USA OWNED & OPERATED
Since 1974
FAST POOL CLEANING: Ideal rugged daily use pool rake for fast, easy and efficient cleanup of leaves and debris from pools. Fits standard size (1-1/4") telescopic pool vacuum poles. Pole not included.
HEAVY DUTY 20" FRAME: The heavy duty lightweight plastic molded frame is safe for use in all types of pools and it won't mar pool liners. Frame dimensions 20" wide x 12" long with a total length of 16".
WIDE EASY SCOOP EDGE: Extra wide 17" net opening with a beveled leading edge that makes it easier to glide and maneuver it along the pools bottom, while providing extra scooping power for faster and easier pool cleaning, which saves you cleaning time and effort.
DURABLE DEEP NETTING: The 16" deep large volume netting bag combined with the scoop design allows it to collect more debris at a time, and is also very effective at holding the leafs within the net bag while maneuvering the rake though out the pool. Netting is made of long-lasting chemical-resistant fine mesh nylon material.
ONE YEAR - 100% SATISFACTION GUARANTEE: Buy with confidence, if you're not satisfied with this item at anytime within one year of purchase, we'll provide a refund or replacement.
Weight: 0.8 lb