U.S. Pool Supply® Fine Mesh Filter Bags for Leaf Vacuum Pool Cleaners, 2 Pack - 12" x 20" Replacement Net Bags, Universal Fit, Leaf Terminator, Eater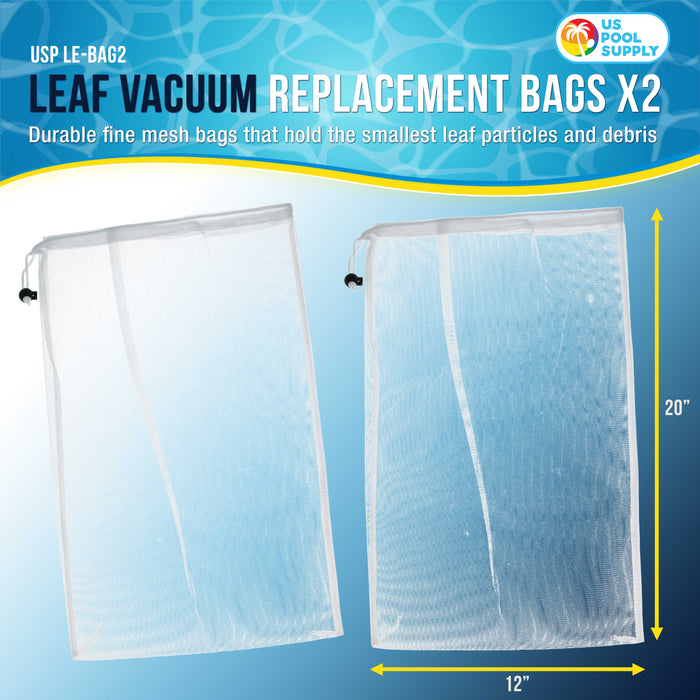 U.S. Pool Supply® Fine Mesh Filter Bags for Leaf Vacuum Pool Cleaners, 2 Pack - 12" x 20" Replacement Net Bags, Universal Fit, Leaf Terminator, Eater
Your everyday low price:
USA OWNED & OPERATED
Since 1974
Pack of 2 premium fine mesh filter replacement bags for leaf vacuum pool cleaners. Large 12" x 20" replacement bag with pull and lock cords to keep them securely fastened to your leaf vacuum.
Universal-sized mesh bags that fit most types and brands of pool leaf vacuums and some leaf vacuum jets. These are the standard-size fine mesh filter bags that are used with the U.S. Pool Supply Leaf Terminator Vacuum.
These fine mesh bags are made of finely stitched durable nylon fabric netting material so they can catch and hold the smallest leaf particles and other debris.
Using aleaf vacuum pool cleaner with mesh filter bags regularly will help prevent the clogging of pool pumps, skimmer baskets, and other filters, so your pool filtering system will need less servicing.
Buy with confidence, as our premium bags are built to last, and if you're not satisfied with them at any time within one year of purchase, we'll provide a refund or replacement.
Weight: 0.1 lb